Kidney-nourishing black bean and quinoa stew
Posted by DAVIDUP
This hearty vegetarian stew is both delicious and healthy. Plus, it's packed with foods and spices traditionally used to nourish the all-important kidney energy in traditional Chinese medicine.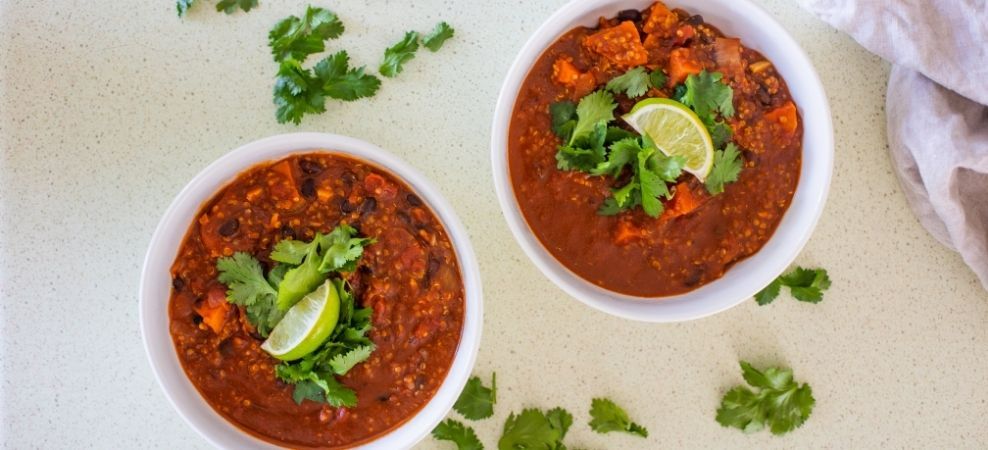 Ingredients
1 tbsp olive oil
1 brown onion, diced
3 cloves garlic, crushed
1 tbsp cacao powder
2 tsp cumin powder
½ tsp cayenne pepper
1 tsp coriander powder
½ tsp cinnamon powder
1 large sweet potato, cubed
1/2 cup quinoa, rinsed
400g can black beans, strained and rinsed
2 x 400g cans diced tomatoes
2 tbsp tomato paste
2 cups vegetable broth/stock
1 tsp tamari
Salt + pepper to taste
Coriander + lime to garnish

Instructions
1. Heat the olive oil in a large pot on medium heat, then add the onions and cook until translucent.
2. Add the garlic and cook until tender, ensuring not to burn it.
3. Add cacao, cumin, cayenne, coriander and cinnamon and stir continuously for 30 seconds or until fragrant.

4. Add sweet potato and quinoa and stir well.

5. Add the broth, diced tomatoes, tomato paste and tamari, and stir well again.

6. Stir in the black beans, ensuring everything is evenly combined.

7. Cover with a lid and reduce heat to simmer. Cook for 35 minutes. Add salt and pepper to taste.

Serve in bowls, and top with coriander and lime wedges.